This post may contain affiliate links! I will receive a commission, at no extra cost to you, if you purchase something recommended here.
Found on the edge of the Adriatic Sea, Split is an excellent place to visit if you want to learn about Croatian history and culture.
I've had the immense pleasure of living with a local family just outside the city center for two whole summers, and it's become one of my favorite places.
The weather is perfect–if you love sunshine, then this is the place to be, and it very rarely snows here in the winter.
This ancient Roman town became part of Yugoslavia after World War II and is now the second-largest city in Croatia and the capital of the Central Dalmatia region.
There are so many things to do in Split–the city is bursting with historic buildings, incredible culture, delicious food, and entertainment.
The Best Things to do in Split, Croatia
From the vibrant energy of Old Town to the stunning views from Marjan Hill, you're going to love all of these fun things to do in Split!
1. Diocletian's Palace
This massive ancient palace pretty much makes up Split's Old Town.
Built near the Roman Emperor Diocletian's birthplace on the edge of the Adriatic Sea in the 4th century, it's an excellent example of the civilization's wealth and power.
Fun Fact: Diocletian retired from public duty in 305 A.D. but, was assassinated less than a decade later.
Today, Diocletian's Palace serves as the focal point of Split's Old Town.
The UNESCO World Heritage Site is still inhabited by museums, restaurants, stores, and residential spaces within its walls.
Tourists may also remember the palace from its major appearance in the HBO series Game of Thrones.
The huge complex included everything, including the royal palace, baths, the Cathedral, and the town square.
Several of these sites are still intact within the Palace today and should be included in your 3-day Split itinerary:
Cathedral and Bell Tower of Saint Domnius, the world's oldest Catholic church
The Temple of Jupiter, featuring Roman carvings above its entrance and a headless Ancient Egyptian Sphinx–that Diocletian himself brought–back guarding the door
The Peristyle, a typical Roman inner courtyard where you can find reenactments during the day and performances at night
The Vestibule, an open-air round meeting hall and was once the formal entrance into the Palace's apartments
Podrum Underground Market, which was once a prison and a septic tank
There are also four main gates still standing that used to be the only way into the palace
To read a more detailed summary of the historic landmarks in Split Old Town, check out my guide to the neighborhood here.
A UNESCO World Heritage Site is a creation or landmark chosen for conservation by the United Nations Organization for Education, Science and Culture (UNESCO) due to its cultural, historical, scientific or natural significance. It must meet a minimum of one of ten selection criteria to be considered for the World Heritage List, and once chosen, it becomes protected for preservation by various international treaties.
2. Stroll along the Riva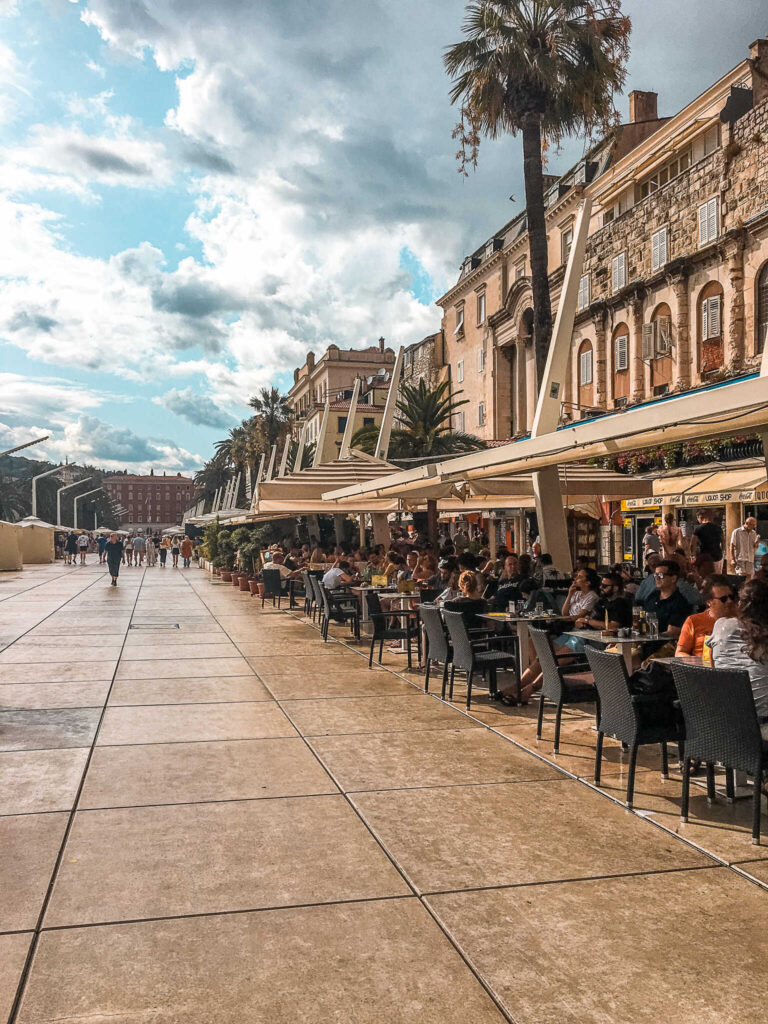 If you're looking for what to do in Split, have you walked along the seafront promenade?
Almost every city I've visited in Croatia has a Riva or waterfront Promenade, but Split's is by far my favorite.
Along the outer wall of Diocletian's Palace, you have different coffee shops, restaurants, and ice cream stands.
And opposite, you'll be met with incredible views of the sea.
However, one of the best things to do in Split at night is to walk the Riva–it's a hotspot in summer!
You'll find that the bars by the brilliant blue water have transformed into nightclubs, and dormant stages during the day are always featuring a band, dance troupe, or other performances.
Not to mention the sunset view over the water with lovely harbor views!
3. Visit Trg Republike
If you've ever visited Piazza di San Marco in Venice, Italy, you might recognize some similarities.
Also known as the Prokurative, Republic Square is found at the western end of the Riva.
Taking its inspiration from the famous Italian piazza, buildings enclose the square on three sides.
It's a great space to relax with a coffee or catch an outdoor performance.
4. People watch in Narodni Trg
Also known as the People's Square or simply Pjaca, Narodni Trg was the first area outside of the Palace to be populated, around the 13th century.
As the city continued expanding, it became the central square.
Within the square, you can see several other notable Split landmarks, like the Church of Our Lady of the Bell Tower, Nakić Palace, and Stara gradska vijećnica.
5. Hike Marjan Forest Park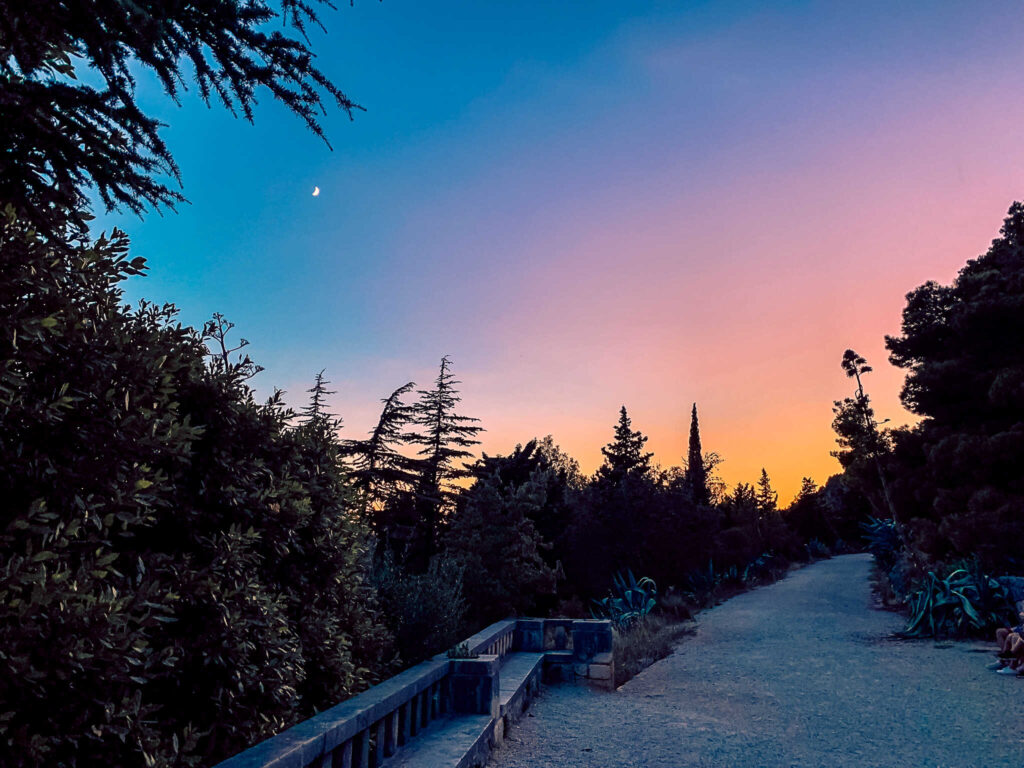 Located on the western side of the city, Marjan Hill is the highest point of the city.
The view from here is fantastic! You'll have panoramic views of the whole city, including the town center with its beautiful architecture and the Dalmatian coast.
The walk to the top is really a hike to Marjan Hill; you'll first climb the steep stairs in the city's Varoš neighborhood before actually getting into the park.
There are several observation points throughout the park, and a popular beach to relax at, Kasjuni Beach.
Make sure you have good shoes or boots for hiking and enough water to accommodate for the many steps and steep hills here.
Also, bring your camera if you want to take pictures at the top–it's one of the best photo spots in Split!
6. Spend an afternoon on the beach
No warm weather trip to Split is complete without lounging on one of the city beaches!
I've spent more time resting on Bačvice Beach than any other in Split–and for a good reason.
It's the closest beach to Split's Old Town and has it all—sandy beaches, pebble beaches, and flat cement.
There are lounge chairs to rent, beach bars right next to the water for a coffee or cocktail, and you might even pass by paddleboat rentals while walking along the Croatian coast.
If you want to learn more about the best beaches in Split, take a look at my guide.
Insider Tip: If you're visiting Split in the summer, make sure you catch an outdoor movie at Ljetno kino Bačvice, the beach's open-air movie theater. You can check out their summer movie schedule here.
7. Watch a game of picigin being played on the beach
Picigin is a traditional ball game played on the sandy shores of Split's beaches and involves players batting a small ball around with their hands in a circle.
This traditional ball game originated in 1908 on the beach of Bačvice and is still played there to this day.
The aim of the game is to keep the ball in the air and out of the water for as long as possible, which leads to lots of running, diving, and leaping – it's great entertainment for all beach-goers!
You can sit back and watch the locals play or even join in yourself if you're feeling brave.
8. Visit one of the many museums in Split
With so much history, it's no wonder that the city has almost twenty museums!
The Muzej grada Splita (Split City Museum) and Etnografski muzej Split (Split Ethnographic Museum) are my favorite history museums.
I would be remiss in not mentioning two of the more…interesting museums in Split!
If you're a diehard Game of Thrones fan, you can visit Split's Game of Thrones Museum location.
And if you absolutely love frogs, specifically seeing stuffed frogs in distinctly human scenarios, well then, you need to visit Froggyland.
9. Visit the Ivan Meštrović Gallery
Quick History: Ivan Meštrović was one of the most famous Croatian artists in modern times. His work as a sculptor, writer, and architect has been displayed around the world, notably at the Ivan Meštrović Gallery in Split, Croatia; the National Museum of Serbia; Church of Sts. Cyril & Methodius and St. Raphael in New York City; and Snite Museum of Art at the University of Notre Dame in South Bend, Indiana, where he was a professor and artist-in-residence until his death in 1962.
Galerija Meštrović (Ivan Meštrović Gallery) is a must-see tourist attraction for art lovers visiting Split, Croatia.
Housed in the iconic home owned and designed by the artist himself over by Marjan Hill, it features an amazing collection of sculptures, sketches, furniture pieces, and architectural plans.
This is the largest collection of works by Meštrović anywhere in the world, and it's well worth a visit if you're in town.
The outdoor sculpture garden is also not to be missed!
Take some time to explore this unique and fascinating museum, where you can find out more about one of Croatia's most renowned artists.
The Gallery has beautiful sunsets at night and hosts intimate theatre performances as part of the Split Summer Festival–this is a must-see spot in Split!
You may even have seen his work before without knowing it – he was the sculptor behind Split's famous Grgur Ninski statue!
10. Rub the toe of the Grgur Ninski statue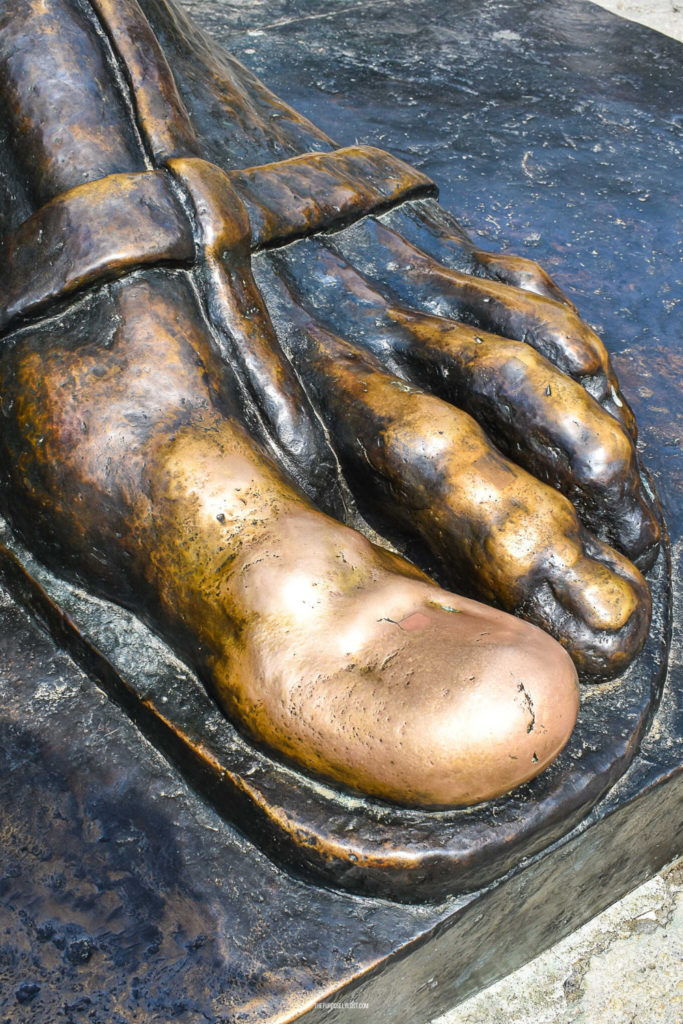 Looking out over the Golden Gate is a giant statue of a man. Congratulations, you've now met Grgur Ninski!
Gregory of Nin was a Medieval bishop of Nin who is known for calling on the Catholic Church to conduct mass in the Croatian language in 926.
He is regarded as a defender of Croatia's language, history, and culture.
Created in 1929 by Croatian sculptor Ivan Meštrović, the bronze statue stands at 28 feet (8.5 meters) tall outside the Golden Gate into Diocletian's Palace.
Originally, the statue was first displayed in the Peristyle, but was moved by Italian fascists during World War II, and again into its present position in 1954.
If you look at the man's massive feet, you'll notice that his big toe is more golden than the rest. Rubbing Gregory's big toe has been bringing people good luck for decades.
So make sure you don't pass on the opportunity to rub his toe for a little good luck yourself!
11. Discover all the filming sites on a Game of Thrones walking tour
While the HBO series was famously filmed in Dubrovnik, the production used gorgeous locations all over Croatia to bring its world to life.
If you're a major GoT fan, the city might feel familiar to you as you're exploring the city.
The series filmed all over the city, with the basement in Diocletian's Palace (where Podrums Underground Market is today) serving as Split's most iconic location–Meereen's catacombs for Daenerys' dragons.
Take a Game of Thrones-themed walking tour to get an in-depth look at filming sites while learning a little bit of the city's history along the way.
12. Take a historical walking tour of the city
If Game of Thrones isn't your thing, no worries, there are several other walking tours of the historic city!
As a tour guide, the first thing I do when arriving in a new place is schedule a walking tour.
Learning about the history behind significant sites is always something I recommend you do when planning your list of things to do in Split, Croatia.
13. See one of the world's oldest Sephardic synagogues
Did you expect to find one of the oldest synagogues in the world in Split?
Found down the narrow Židovski Prolaz–which translates to Jewish Passage–the 16th-century Sephardic synagogue is one of the oldest in continual use worldwide.
Located in a residential building built into the Palace's western wall, the synagogue was established in the 16th century by combining the second floor of two Medieval homes.
It was ransacked by Italian fascists during World War II but has gone through two restorations since.
You can also visit the synagogue's Old Jewish cemetery on the eastern side of Marjan Hill.
14. Enjoy a performance at the Croatian National Theatre in Split
You can find a bit of all different performance styles at the Croatian National Theatre in Split.
Initially built in 1893 as the Split Municipal Theatre, its 1,000 seat theater was the largest in Southeastern Europe at the time of its completion.
The country's national theatres played a crucial role in promoting the Croatian language before Croatia gained independence.
The theatre hosts over 300 performances each year, including dramas, ballets, operas, and concerts.
If you're here in the summer, make sure you attend a production as part of the Splitsko ljeto (Split Summer Festival) hosted by the theatre.
Or, if you're here in the spring, attend the Marulićevi dani (Days of Marulić) week-long festival in April, which celebrates accomplishments in Croatian playwriting from the prior year.
15. Window shop along Marmontova Street
When Napoleon ran the region, the French general Auguste Marmont was in charge of modernizing Split and other cities in Dalmatia.
As thanks for his work, the pedestrian boulevard on the west side of the city was renamed Marmont Street.
You can find art galleries, restaurants and gelato shops, and high-end stores as you stroll along from the Riva up the street. This is also where you'll find Split's fish market.
16. Purchase fresh foods at the outdoor markets
Split has three outdoor markets. The Bazaar and the Pazar Market are right next to each other, starting in front of the Silver Gate and moving east. The Bazaar is a great place to shop for souvenirs, like sun hats, t-shirts, magnets, and lavender products.
The Pazar Market is the city's fruit market. Local farmers will bring fresh produce into the city every morning to sell straight to you. If you want to shop locally, this is the place to do it!
I've seen anything from fresh fruits and vegetables to nuts, olive oils, and honey jars here.
The Peškarija Market is the city's fish market, found on Marmont Street. Since Split is a coastal town, you'll find stalls with fish here that came almost straight from the sea.
If you're staying in an accommodation that has its own kitchen, make sure you take the opportunity to cook a fresh fish meal one evening!
As with both the food markets in Split, time is of the essence. Both markets close down by the early afternoon, so for the best choices, make sure you get there in the morning.
17. Make sure to try authentic Croatian cuisine
Croatian food is a delicious mix of Mediterranean and Eastern European flavors, and there are plenty of restaurants in the city where you can try it.
There are plenty of seafood dishes featuring fresh fish straight from the Adriatic Sea as well as some tasty soups and stews.
If seafood isn't your thing, don't worry – there are other Croatian dishes to sample, like cevapi, a kind of grilled meat.
And, of course, no meal is complete without a glass of Croatian wine!
One of my favorite restaurants for Croatian food is called Fife; you'll find it right in the city center of Split.
18. Support the local football team, Hajduk Split
If you really want to experience one of the local things to do in Split, Croatia, watch a football game while rooting for the local team, Hajduk Split.
If you're lucky, you can catch a Hajduk Split versus Dinamo Zagreb game, the club's primary rival.
Before the game, take a tour of the team's home, Poljud Stadium.
Originally built to host the 1979 Mediterranean Games, the structure is designed like a seashell.
Due to its architectural and urban design, the stadium is designated as a cultural heritage site.
Fun Fact: The EDM music festival, ULTRA Europe, is held in Poljud Stadium every summer.
19. Go shopping at one of the city's malls
As with any great city, Split has some great shopping centers. Aside from Marmont Street in the city center, there are two malls just outside the hub.
The Mall of Split and City Center One each have a number of internationally recognized stores and local shops within them, and they both have a CineStar if you want to go to the movies.
You can easily pick up the Promet Split bus line #18 to get to the Mall of Split and City Center One.
20. Admire the street art as you pass it by
While you (thankfully) won't see any graffiti marring the Palace's ancient walls, there is street art to admire all over Split.
This is one of my favorites:
21. Enjoy the sunset over Split from the sea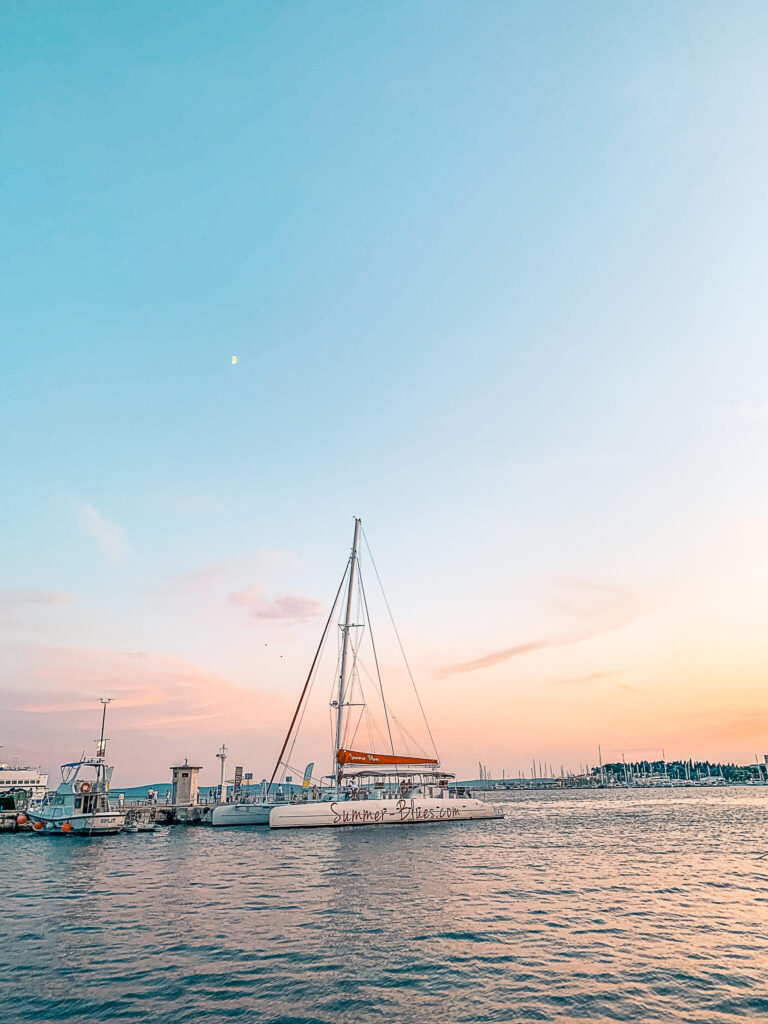 Sunsets create some truly breathtaking colors in Split.
While you won't be disappointed with your sunset views of the city from in the city, an experience that definitely can't be missed is taking a sunset boat trip on the Adriatic Sea to watch the sunset transform the city's skyline.
This two-hour sunset cruise of Split features live music and an open bar while you sail around the city, seeing Marjan Hill, Diocletian's Palace, and even the bay of Kaštela as they transform from day into night.
Read More
Things to do near Split, Croatia
22. Hop on the ferry and spend an amazing day trip at a nearby town
Since Split sits on the Adriatic coast, you can take a day trip to many nearby islands and towns!
I have a complete guide to Split day trips if you need some inspiration.
And, some of the most beautiful beaches in Croatia are just a quick bus or boat ride away.
If you want to head to some historic cities from Split yourself, check out my guides on things to do in Šibenik and how to take a day trip to Trogir from Split.
23. Head out to Brač island
Brač is a spectacular island off the coast of Split, with sweeping coastal views and plenty of Mediterranean charm.
Here you can explore small fishing villages, visit ancient churches, or simply relax on one of the many sandy beaches.
On the island, you can take a dip at Zlatni Rat, an iconic sandy beach known for its unique shape that changes with each tide–the famous golden horn beach.
It looks spectacular from above!
24. Visit the famous Blue Grotto on Biševo island
The Blue Cave is a naturally occurring phenomenon that will take your breath away.
Located on the small island of Biševo, this cave is filled with an ethereal blue light that illuminates its walls.
The best time to visit is midday, when the sun is at its highest point in the sky and bathing the interior in a heavenly blue glow.
Getting there can be tricky if you go alone, but it's easy to take an island-hopping day tour that includes the Blue Grotto on its itinerary of Croatian islands.
25. Explore the Salona Ruins
Found just outside of the city, this ancient city was originally built by the Greeks in 119 BCE and continued to grow until 60,000 people resided there.
Today, visitors come to explore the ruins, which include a theater, baths, and remarkable city walls.
Take a cab or hop on a bus for an easy journey there and prepare to be amazed by this archaeological wonder.
It's definitely worth checking out – even if it's just for half a day!
26. Be courageous in and around Split
Although there are tons of adventurous activities in the nearby town of Omiš, Split has several options too.
Try a kayaking, snorkeling, and cliff-jumping tour in the morning or a stand-up paddling (SUP) tour at sunset.
You can also experience kayaking in Marjan Park, rock climbing, horse riding, ATV quad biking, and hiking nearby Mosor Mountain.
27. Visit Klis Fortress
Above the city, a Medieval fortress keeps watching over the area.
Located in the town of the same name, the Fortress of Klis served as a vital defense against Ottoman invaders throughout Europe's Ottoman Wars from the late 13th century through the early 20th century.
What was originally built as a small fortification during ancient peacetime, it later became the palace for several kings of the Croatian Kingdom before taking on its final job as the fortress.
The fortress itself is pretty spectacular, but its views of Split below are where it shines.
For the most part, Croatia is a country where the oceanfront cities are surrounded by mountains, so to be up in the mountains looking down is outstanding.
Klis Fortress is only a 30-minute drive from the city center of Split, or take the Promet Split bus line #22 from the HNK stop by the Croatian National Theatre of Split to the Klis Megdan bus station.
28. Visit Plitvice National Park
At Plitvice Lakes National Park, you'll be able to experience some of Croatia's most fantastic views and landscapes.
This UNESCO World Heritage Site is home to 16 stunning lakes and an incredible array of cascading waterfalls and lush green forests.
This full-day trip is around 2.5 hours from Split by car.
The park covers a huge area, giving visitors plenty of space to explore, so it's best to set aside a whole day for your visit.
Start off by exploring the paths that meander through the park, admiring the breathtaking views of the crystal blue waters and the towering waterfalls.
You can even take a boat ride through some of the smaller lakes or take a dip in one of the picturesque swimming spots!
There's also lots of wildlife here too–from deer and bears to birds like hawks and eagles–so keep your eyes peeled for any wildlife sightings!
29. Take a day trip to Krka National Park
Krka National Park is one of those places that you must visit if you're looking for things to do near Split, Croatia.
Just about 90 minutes away by car, the Krka waterfalls offer visitors a unique natural experience with stunning waterfalls, lakes, and even the chance to take a swim in some areas.
The park's most iconic waterfall is Skradinski Buk, which has been named one of Croatia's seven natural wonders.
If you have time to spare, be sure to check out Visovac Island, too; it's home to a 15th-century monastery!
And if that isn't enough for you, there are plenty of nice hiking trails through the park – so don't forget your camera.
No matter what time of year you visit Krka National Park, it will be sure to make an impression on you.
30. Head to the hills for a wine tasting at a nearby vineyard
Just above the city, you'll find some stunning views with even better wines.
Nearby vineyards Winery Vučica, Putalj Winery, Winery Perišin, and Winery Bedalov all offer wine tastings.
If you don't want to leave the city centre, you can visit the Hvar Hill's wine store or Marvlvs Library Jazz Bar, Bokeria kitchen & wine bar, or Zinfandel Food & Wine bar to enjoy a glass of wine.
How to Get to Split, Croatia
Getting to Split is a breeze! Whether you're coming from near or far, there are plenty of options to suit your needs.
If you're flying in, the city has a major international airport with several flights arriving and departing every day.
And if you prefer other modes of transportation, you can also get to Split by bus or train.
Of course, driving is an option, too–just be aware that parking can be tricky in some areas.
Best Time to Visit Split
The best time to visit Split really depends on your preferences since the city is filled with activity year-round.
However, my favorite time to visit is in the summer.
If you love warm weather and enjoying time on the city's incredible beaches, then peak season during the summer months, from June through August, is perfect for you.
But if you prefer smaller crowds and still want to enjoy great weather, May and September are great options.
And guess what? You can even swim in the Adriatic Sea as late as October!
Where to Stay in Split
If you want to be close to all the action, then staying in Split's Old Town is a great choice.
Here, you can find some of the city's most iconic buildings as well as several boutique hotels and guesthouses.
Plus, there are also plenty of restaurants and bars nearby so you can enjoy an evening out without having to travel too far.
However, if you're looking for something a bit more luxurious, then check out one of Split's beachfront resorts.
These resorts offer stunning views of the Adriatic Sea and easy access to some of Split's best beaches.
Plus, many resorts also offer swimming pools and spas – perfect for relaxing after a long day of sightseeing!
Finally, if you're traveling on a budget or simply want something more private, then why not consider an apartment?
There are some extremely affordable options available on Booking and VRBO, right in the heart of the city's old town.
Travel Insurance for Croatia
While Croatia is generally a safe country with reputable healthcare, accidents can happen anywhere.
If you get sick or injured on your trip, travel insurance will protect you from unexpected costs.
I highly recommend SafetyWing for trips to Croatia.
They offer comprehensive coverage for medical expenses, emergency evacuation, trip cancellation or interruption, and even personal belongings.
What to See in Split: FAQs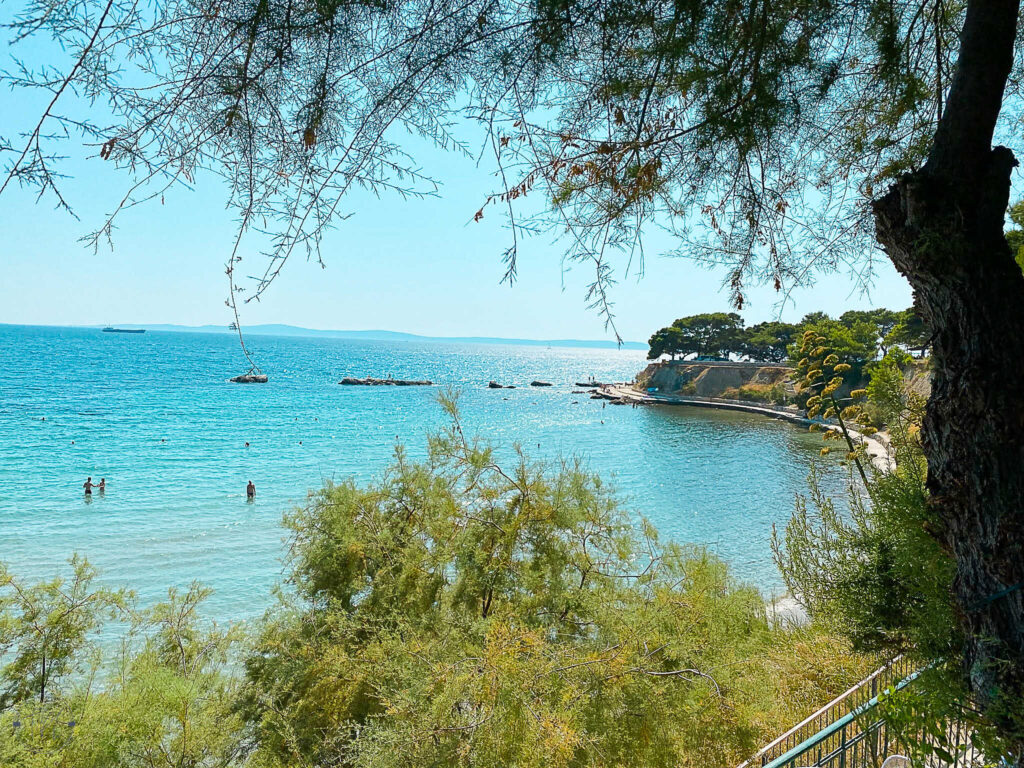 Is Split worth visiting?
Yes, Split is definitely worth visiting.
This coastal city has so much to offer–from the stunning Marjan Hill with its panoramic views of the city and sea to the historic Diocletian's Palace that was used for Game of Thrones filming locations.
And let's not forget about the beautiful beaches like Bačvice and Kasjuni, where you can soak up some sun and swim in crystal-clear waters.
Whether you're looking for history, culture, nature or just some fun in the sun during the summer months, I highly recommend making Split part of your itinerary when visiting Croatia.  
What to do in Split, Croatia: Wrap-Up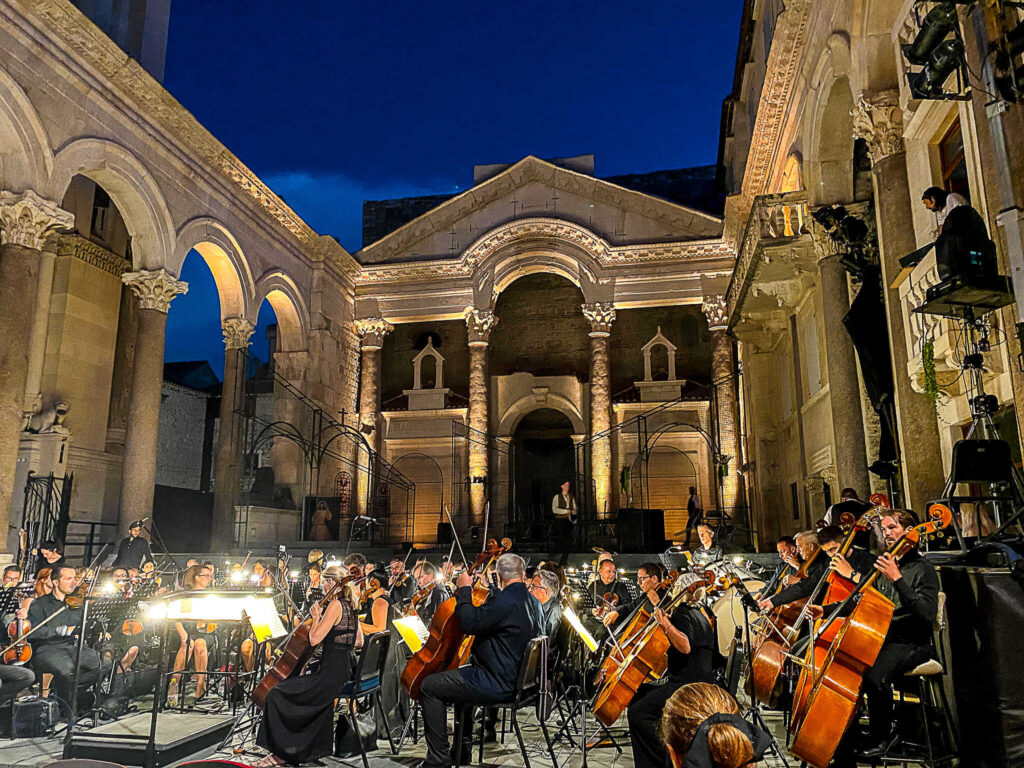 The city of Split offers a wealth of culture, history, and natural beauty for visitors to enjoy.
From exploring the ancient Diocletian's Palace to basking in the sun at the nearby beaches, there truly is something for everyone in this Croatian gem.
So whether you're a history buff, a nature lover, or simply seeking an escape from the daily grind, I definitely encourage you to visit Split and immerse yourself in all of its wonders.
What are your favorite things to do in Split, Croatia?
Lyndsay
Read More