This post may contain affiliate links! I will receive a commission, at no extra cost to you, if you purchase something recommended here.
In a country that's mostly comprised of islands, there are tons of beautiful beaches all over Croatia.
Unless you're heading to a landlocked area of Croatia (like the capital Zagreb), chances are, wherever you're visiting is guaranteed to have fantastic beaches.
Split, the second-largest city in Croatia, is no exception. And visiting the beach is one of the best things to do in Split!
After living in Split for two summers with a local family, I've visited just about all of the best beaches in Split and the surrounding areas.
The historic city has everything, from concrete beaches where you walk down a slippery staircase to slip into the sea, to beautiful pebble beaches with calm water perfect for just dipping your toes in.
And you'll even find spectacular views of the Croatian coast at the city's popular, sandy beach.
Beaches in Split Within Walking Distance of the Old Town
The city sits on a small peninsula in the Dalmatia region, so it's basically surrounded by the Adriatic Sea.
And unlike some other nearby Croatian towns like the beaches near Trogir or the beaches in Šibenik, several of the best beaches in Split, Croatia, are within walking distance to the Split Old Town.
1. Bačvice Beach
Out of every beach in Split, I've spent the most time lounging on Bačvice Beach. It's one of the only actual sandy beaches in Split.
The shallow waters are perfect for walking directly into the water and wading in slowly.
As the closest beach to the city center, it gets a bit packed in the summer.
There are also beach chairs to rent along the cement side of the popular beach and beach bars and coffee shops right next to the water.
If you're lucky, you'll be able to watch a game of picigin, an amateur Croatian water sport played in the shallow water and soft sand.
Insider Tip: If you're in Split at night during the summer, don't miss an outdoor movie at Ljetno kino Bačvice, the beach's open-air movie theater. You can view their summer movie lineup here.
2. Ovčice Beach
Ovčice is the next beach you'll come across when you're walking along the coastline from Bačvice. This is one of my favorite beaches!
This one is mainly made up of pebbles, but there is an area where you can lay out on the concrete.
In the summer months, you'll find paddleboats and paddleboards available to rent from stands along the shore.
And while you won't find any public bathrooms here, there are outdoor changing stalls.
3. Firule Beach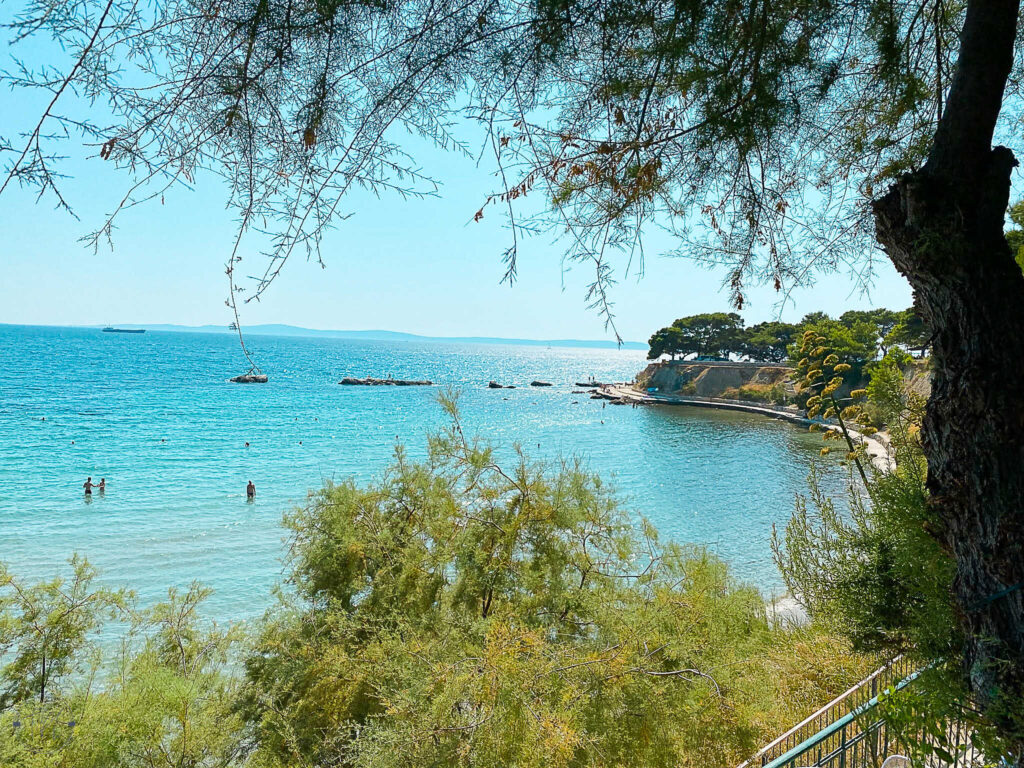 Even further past Ovčice Beach, you'll come to Firule Beach. Next to Bačvice, this is the other stretch of beach in Split that I spend the most time on when I visit!
This gorgeous beach area is entirely made of large stones and concrete platforms.
Although it's a hard surface to sun on, the fact that you can leave the beach without bringing half of the sand home with you is an incredible luxury.
Also, since a little further of a walk, this is one of the more quiet beaches in Split, Croatia.
You'll typically only find locals on this area of the coastline.
To get into the water, there's a stairwell that leads directly into the ocean–but be careful; it can get slippery.
Beaches Found in Marjan Forest Park
Since the park is on the tip of the city's peninsula, you'll be met with a ton of Split beaches–everything from hidden beaches and secluded beach spots to family-friendly beaches.
4. Ježinac, Kaštelet & Obojena Beaches
Found across the street from the famous Meštrović Gallery, Ježinac Bay is the first beach area you'll come to on in Marjan Hill.
If you're wandering the park to the Gallery, you can walk from the Gallery to the sea in 5 minutes.
Or, this beach has a parking area just steps from the water's edge, along with a floating barrier to show how far out swimmers can, well, swim.
There's also a beach bar where you can enjoy a cold drink in the height of summer, changing stalls, and an outdoor shower.
And this Bay is really three beaches in Split on one stretch of coastline.
Next to Ježinac Beach, you'll find Kaštelet Beach. Relax in the shade under palm trees, or enjoy laying in the sun on this quiet beach in Split.
Obojena Beach occupies its own little Bay. Only a slim sandbar separates this from the other sections of the beach–and the parking lot services all areas.
The water laps up against a pebbly beach on all three of these beaches, making it a popular spot for families with younger children.
5. Kašjuni Beach
If you're willing to trek a little further for more secluded beaches, you'll find the beautiful Kašjuni Beach almost at the end of Marjan Hill Park.
It's about a 30-minute walk from the Old Town in Split, or you can reach this perfect beach by the city's public transport.
Or, if you have access to a car, it has a large parking lot–but be warned, in some areas, you'll be literally parking your car next to the large rocks that lead into the turquoise water.
Kašjuni is another pebbled beach where you can walk right into the crystal-clear blue sea. Aside from the blue water, you'll have views of those hills right from your towel on the beach.
There are also lounge chairs you can rent from Joe's Beach Lounge & Bar during the summer season, a summer bar on the beach.
Insider Tip: While the whole beach is not a nudist beach, the western section of the coastline is clothing-optional.
6. Bene Beach
Found on the northern side of Marjan Hill, Bene Beach is a friendly beach in Split for families to visit.
The pebbly beach is mostly covered by shade from the pine trees almost all the way up to the water.
There's also a large, flat rocky beach you can relax on.
The beach's restaurant, Va Bene Restaurant & Bar, has casual outdoor seating for the beach patrons and a patio area for a sit-down meal.
It's a great beach for families; behind the bar, there's a playground with slides and climbing areas, an enclosed trampoline park, tennis courts, and a small soccer field.
Since Bene Beach is a little more remote, it's best to reach the beach by car or Split's public bus system.
You can walk here from the park entrance, but the most direct route is about 3 kilometers along the park's northern edge.
7. Prva Voda Beach
If you decide to walk to Bene Beach along the northern side of the park, you'll first reach Prva Voda Beach.
This small beach is next to the Lučica Marina and is also a pebble beach.
This local beach has beautiful views of the hills on the mainland and a floating barrier to prevent swimmers from venturing into dangerous waters.
Love the beaches in Croatia? Check out my guides to the best beaches in Pula and the best beaches in Šibenik!
The Best Beaches in Split to Reach by Car
If you're willing to venture a little further from the city center, these are other fantastic beaches to check out.
8. Trstenik Beach & the Radisson Beach Club
Located along Trstenik Bay, this is one of the best quiet beaches in Split, Croatia.
It's about 30-minutes to walk from the Old Town, but you can take the city's Promet bus line #17 to the Trstenik stop and then walk to the beach instead.
Since it's more of a trek for tourists, you'll find mostly locals at this beach, along with hotel guests.
The Radisson Blu Resort & Spa, Split maintains the Mistral Beach Club along a stretch of the water here, so the beaches are pristine.
You can rent a lounger on this paradise Beach from the hotel even if you're not staying there as a guest.
9. Žnjan Beach
Saving the largest for last! Next to Trstenik Beach, you'll find Žnjan Beach– the largest beach in Split.
The pebble beach is connected to its next-door neighbor by a waterfront walkway.
So you can explore both beaches before deciding on your optimal lounging site for spending one of your 3 days in Split.
Along with a playground for kids, this city beach also has several bars lining the coast. So, sit back, relax, and enjoy your drink with the view!
The Best Beaches Near Split
Some of the most famous beaches are on the Adriatic islands around Split. If you want to learn more about these beaches and more, you can check out my post on the best day trips from Split!
10. Golden Horn Beach on Brač Island
Brač island has several stunning beaches, but it's most famous for the turquoise waters on Zlatni Rat Beach.
The one-mile (2 kilometers) long beachfront, also known as the Golden Horn, is a white pebbly beach known for its distinct triangular shape that ebbs and flows with the tides.
11. Hvar Island beaches
Hvar island is best known for its lavender fields, Croatian vineyards, and nightlife.
But this beautiful island also has a bunch of great beaches along its coastline, from Bonj Beach within walking distance from Hvar town to more private beaches like Beach Skala.
Insider Tip: Jerolim is a tiny island right off the coast of Hvar with a few nude beach sections on its shores.
Tips for Visiting Croatian Beaches
Bring water shoes – There's a specific kind of prickly black sea urchin that lives in the clean Croatian waters–they're better described as a sea porcupine. If you step on one, you'll be left with a few dozen of its prickers in your foot. To be extra cautious, make sure you have a pair of water shoes to wear in the sea.
Sunscreen is essential – The sun is very strong during those hot summer days along the coast. Even if you have skin that doesn't burn easily, you'll still want to start your day in the sun with a layer of sunscreen.
Beach chairs are an additional cost – Even if you see an unoccupied lounger, don't just sit down. You have to pay a fee to use the beach chairs and umbrellas scattered along the coast.
A note about Croatian beaches: Depending on where in the world you're from, you might be used to different types of beaches. Where I'm from in the United States, we have sand beaches. In Croatia, many beaches consist of pebbles and stones. Still (mostly) comfortable to lounge on, but different than what you might be used to!
Best Split Beaches: Wrap-Up
Split, Croatia, boasts some of the most beautiful beaches in the world. With everything from a sandy beach to pebbles and concrete, there's a beach-type for everyone in Split.
You can spend the day lounging on the sand, swimming in the azure blue waters, and sipping on refreshing cocktails, then head into the beautiful town to explore the historic center, grab a bite to eat, or catch a cultural event.
Whether you're looking to soak up the sun, enjoy the crystal-clear waters, or just relax in a peaceful atmosphere, you'll find it all in Split.
So pack your swimsuit, grab some sunscreen, and head to Split, Croatia, for your beach vacation this year–you'll be glad you did!
With cement, pebble, and sand beaches, which of the best beaches in Split will you be visiting this summer?
Lyndsay
Read More